Behind the Scenes of Reality Cloud Studio, powered by HxDR 
An interview with Justin Barton, Director Product Management, Reality capture division 
Want to learn more about how Hexagon's Reality Cloud Studio came to life? 
We sat down with our expert on Reality Cloud Studio, Director of Product Management, Justin Barton, to learn more about the application and what makes it unique and powerful. He also gives us some details from behind the scenes about how Reality Cloud Studio was built, what it offers, and what's yet to come.  
In simple terms, what is Reality Cloud Studio?  
Reality Cloud Studio is a powerful cloud application for reality capture data visualization, collaboration, and storage. It is built on the HxDR (Hexagon Digital Reality) platform and is the source for automated reality capture in the cloud. You can upload your own data into Reality Cloud Studio for automated meshing and registration, immersive visualizations and virtual tours, collaboration among stakeholders, and secure data storage. 
What's the biggest benefit that Reality Cloud Studio provides to customers?  
Simplification of complexity. By reducing manual and semi-manual tasks that are core to every reality capture project, Reality Cloud Studio allows customers to spend more time being productive on other tasks. Growing their efficiency, scalability and profitability. Things every user wants.  
What excites you most about Reality Cloud Studio? 
Democratization through automation. When we released the first Leica BLK360 and its subsequent BLK sensor siblings, and also in part our tablet software Leica Cyclone FIELD 360 – combined with our VIS technology first on the Leica RTC360 and now on the all-new BLK360 – we drove down the learning curve for reality capture field workflows. We made laser scanning a one-button-press capture and we made our sensors smarter to do more of the work for you.  
Now, we bring that same level of democratization to the software by taking two of the most complex processes that require the most training and expertise, registration and meshing, and fully automating them to the same type of one-button-press simplicity. This makes reality capture accessible to so many more people. 
If you could single out one standout feature of Reality Cloud Studio, which feature would it be? 
It has to be the auto-registration. This was a behemoth to tackle and to do it we utilized technology from multiple Hexagon entities, orchestrated into a ballet of cloud-containers and data pipelines behind the scenes. All to make everything as simple as possible for the user and automate the registration process.
Briefly walk us through five key features of Reality Cloud Studio. 
Accessibility. Reality Cloud Studio creates two kinds of accessibility within the reality capture market. First, by being a cloud-based collaboration platform that allows anyone, anywhere with connection to the internet and browser to access reality capture projects – be it on their phone, tablet, laptop or desktop computer. It's accessible. Second, by lowering the entry barrier for reality capture by providing a solution that has a low cost of entry while being heavily automated for ultimate usability. Making reality capture data processing and management more realistic for many more users. 
  
Automation. Reality Cloud Studio, through years of development and research, takes complex and time-intensive processes like registration and meshing and simplifies them for all users.  
 
Connectivity. Reality Cloud Studio is all about connectivity. It connects the field sensors and users to the cloud and connects the cloud to the office/desktop. It connects team members and stakeholders in a visually immersive, user-friendly UI, enriched with collaboration-specific features like comments, GeoTags, link sharing, and more.  
 
Compatibility. Although deeply integrated with Hexagon's reality capture hardware and software solutions, Reality Cloud Studio is agnostic. Users can upload data captured by any sensor if it can be provided in one of multiple industry-standard formats. And supported formats will continue to grow over time. 
 
Security. Every user account has a permission-based role within the Organization Account and a permission-based role for every project they are assigned to. These roles dictate what they can do, including if they can edit or share data. Users can ensure the people accessing a project are the ones they want and trust. 
Who are the ideal users of Reality Cloud Studio?  
Anyone in the reality capture market, or anyone looking to enter the reality capture market. Whether you're a "n00b" that needs that democratized simplification to lower the entry barrier with simple, black-box automation for your most complex tasks, or a sophisticated user with years of experience that can benefit from freeing up your teams from these historically manual or semi-manual processes to be more efficient and productive in your projects. This solution will benefit you. 
How do users access and use Reality Cloud Studio? 
Two ways: go to the website, hxdr.app to create an account and signup for a monthly subscription with our easy-to-use, self-service eCommerce system. Or talk to your regular Leica Geosystems reality capture sales representative for a demo or more service-oriented contact about the solution – maybe even to bundle a purchase with another hardware or software purchase. Whatever makes you most comfortable.  
What surprises did you encounter during the creation of Reality Cloud Studio? 
Cross-functional team development at a whole new level with so many Hexagon entities and their technologies working together to bring this solution to market. I've worked with cross-functional teams for years within the reality capture division of Leica Geosystems, and even within the larger organization, between reality capture and the geomatics division. But this brought in entities from under the vast Hexagon umbrella. Brilliant, dedicated people, working together to make something none of us could have done alone – well, at least not in a reasonable amount of time.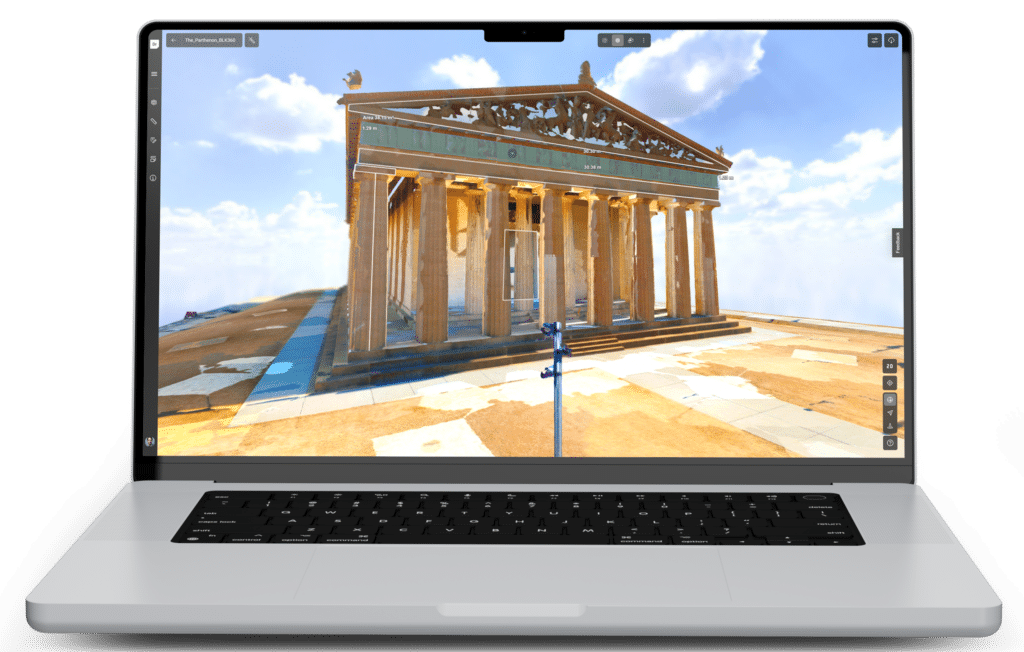 What's the biggest technological achievement of Reality Cloud Studio?  
Again, simplification of complexity.  
Most people likely know the adage "the hardest thing to do is to make something simple" (loosely paraphrased). Reality Cloud Studio is years in the making. And it depends on many existing Hexagon products and technologies, across several Hexagon companies like Luciad, Technodigit, Immersal, myVr, Leica Geosystems, and Melown Technoloiges, as well as Hexagon's own internal technology hub.  
Automated registration and automated meshing means the solution has to work with many variables: variable methods in data capture, variable site topographies – for example, indoor versus outdoor, an active construction site versus a forensic investigation of a crime scene versus a food processing plant, and so much more, and variable sensor data – the data characteristics of different scanners vary based on their accuracy, noise level, if they are a static tripod-mounted system or a kinematic system capturing while in movement like our Leica BLK Autonomy portfolio. All these things make every dataset unique, giving it its own fingerprint. Which is why registration and meshing have historically been equal parts science and equal parts art.  
Designing and building a software solution that can analyze and understand these variables and then provide a solution to reduce user input, while still being successful, is no small undertaking. Yet we're succeeding, and constantly reviewing results to tweak and improve iteratively as we go. We will continue to roll out improvements to these capabilities and add all-new automated services too. 
Where does Reality Cloud Studio fit in the Hexagon portfolio of software and/or cloud applications? 
Reality Cloud Studio is a natural addition to our reality capture hardware and software portfolio. It launches with direct connection to our field apps that control our sensors and even our office analysis powerhouse, Leica Cyclone 3DR. And soon, more of our traditional office software will connect to Reality Cloud Studio, integrating it completely with our existing workflows.  
Additionally, Reality Cloud Studio is built on core capabilities of our products like Leica Cyclone REGISTER 360 PLUS and Cyclone 3DR and Cyclone ENTERPRISE—products that have served to bring registration, meshing, and central data and user management to our customers. Now, elevated and simplified. But integrated to meet all our customers' complex, and ever-growing needs. Driving the best-in-class end-to-end workflows for the reality capture market. 
And with other groups within Hexagon deploying solution on HxDR, it sets the stage for further integrations. 
How does the release of Reality Cloud Studio point to the future of the HxDR platform?  
Reality Cloud Studio is just one application deployed on the HxDR platform. But it incorporates many technologies from across Hexagon companies and divisions. I think this demonstrates our drive toward "One Hexagon", bringing the pieces together to deliver best-in-class solutions. Now, powered by the cloud.